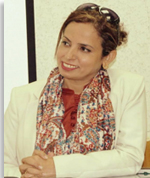 Dr. Ghazal specializes in behavioral decision research and technology (PhD with emphasis in decision making, USA). USA. She has over 20 years of teaching and research experience at national and international level and is a great scientist and researcher with international visibility (e.g. over 1200 citations). Her research focuses on developing theoretically grounded adaptive decision tools and decision aids that help people make more informed decisions.
She is lead member for the RiskLiteracy.org (an International collaborative project by National Science Foundation (NSF) USA) and lead member for Decision Analytics Lab, University of Oklahoma, USA.
Currently she is serving as founding director for the Center for Leadership and Decision Making (LeaD) at University of the Punjab, Pakistan, where her vision is to take psychology to the workplace and to the corporate world through teaching and training programs to improve human and organizational performance and also fostering industry academia linkages.